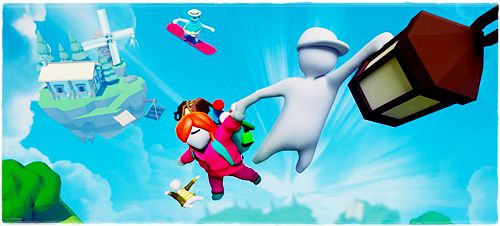 There are many players who use skins that are not available in Human Fall Flat. This is all due to the flexibility of character customization.
Basically, if you want, you can install any skin you want on your character, but you'll have to put some effort into it. In our guide, we will explain how to create and add custom skins to the game.
How to add custom skins in Human Fall Flat
Step 1: Getting Ready
Creating a new skin for your character is the first thing you need to do. You can draw anything on it, especially if you can incorporate some of your skin ideas with the game's tools.
After that, you just save the skin in a free cell. Now the preliminary work is finished.
Step 2: Finding a Character
After the skin base is prepared, you will need to go to the folder C:\Program Files (x86)\Steam\userdatа
Then in the search box you have to write 'remote'.
We are looking for the folder with the last digits 477160, inside of which you will find the presets folder, which contains your skin (the names of the folders are the parts of your saved character).
Step 3: Adding Presets
In the character folder we look for a skin of their face and body. If you make too simple a character, you will have 1 file.
You might want to transfer the image to a convenient location, because you need to open it in Photoshop (well, probably any other graphic editor could work too, you can try, at least) and finding the right file through the Photoshop explorer can be difficult.
Once you've opened your skin file in Photoshop, you'll have to do your dirt work there. To make your works easier, refer to the locations of the parts you've already drawn.
After all that has happened, save the result and move it back to the same folder.
Done! You are awesome now!
That's all about creating custom skins in the game.