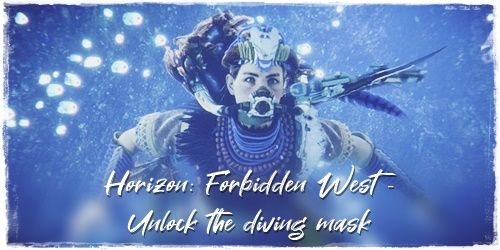 Besides flying mounts, new underwater features have been added to the game. However, intensive swimming underwater requires a special device. In this post, we'll share with you how to unlock the diving mask in Horizon Forbidden West.
As well as the extensive underwater passageways, the game also features various loot and collectibles, including flight recorders that can now be found underwater.
It's also possible to explore sunken caves, but you'll need a breathing mask to endure longer underwater passageways since you'll typically drown before you complete them.
How do I unlock the diving mask?
Diving masks are part of so-called 'special equipment', just like shield wings. This group also includes lighters and vine cutters that help open blocked passageways.
You can get it automatically after completing the main story mission 'The Sea of Sands' as was the case with all the other special equipment.
The breathing device is yours after you complete the eleventh main mission, so you'll need to spend some time on it before it becomes available to you. Keep in mind that some side missions and/or activities are very difficult or impossible without it.
What do I need the diving mask for?
It can also be useful for several areas other than the last main mission, such as solving a relic ruins or finding vantage points. Apart from that, as mentioned above, you won't be able to complete most of the sunken caves without it.
Therefore, if you are looking to farm green shine to trade or upgrade your weapons and outfits, you should unlock the diving mask, since sunken caves are ideal for farming green shine.
A diving mask is a great special item that will let you experience Horizon Forbidden West's beautifully crafted underwater world even more deeply and extensively, and let you do a lot more. Therefore, it's well worth trying to unlock it early, and playing the main story first.