This post is about Gale, the character of the popular mobile game Brawl Stars.
General Characteristics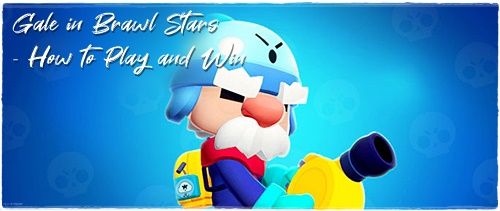 So, let's start with the fact that Gale is a chromatic Hybrid class fighter. You can get him from any crate, and from the Premium Brawl Pass (Tara's Bazaar) at level 30 in season 1.
The amount of health of the character is average, movement speed is normal. He deals a fairly large amount of damage. Gale's attack is six projectiles in the form of snowballs, but usually only four hit the enemy. His Super is a large and strong gust of wind, which throws enemies back a long distance. With his first Star Power he stuns enemies with his Super if they hit an obstacle. With the second Star Power he slows them with his main attack for a short time. Using the Spring Gadget, Gale creates a weak spring. But with the help of the second Gadget, he calls on the enemies of a repulsive whirlwind.
Basic Attacks
"Polar whirlwind"
Gale attacks enemies with six snowballs that deal damage. But the attack doesn't hit multiple enemies at once, like other characters.
"Stormwind"
This attack is a powerful stream of air along with snow that does little damage but repels enemies. It can be useful against Tank class fighters if they are chasing Gale.
Enhancements
Star Power: Raging Gust
Gale's Super stuns enemies when pushing back against obstacles. This gives extra protection against Tank-class fighters, making them easier to both escape and kill.
Star Power: Ice Snow
Gale now slows enemies on hit. This gives you a chance to run away from or catch up with your opponent.
The best way to play
Gale is good now on the inaccessible volley brawl mode because of his throwback skills.
Also the character is very good in the Hot Zone because of his rebounding ability (it won't work on the Massive Strike card).
Now you know Gale's main tricks and perks, and you can defeat enemies by using them.